Finished 10 Metre Air Range
Including reduced height firing point for Juniors or Wheelchairs
Wednesday 15 April
Early Shots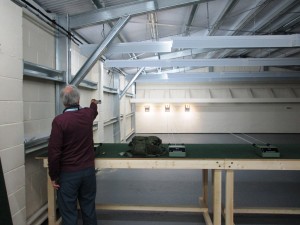 Sunday 12 April
Before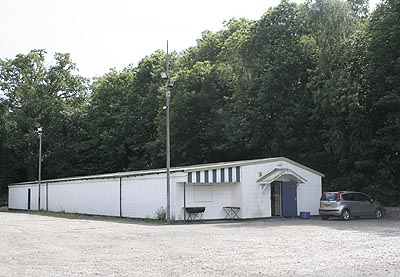 After
Saturday 11 April
First target changers installed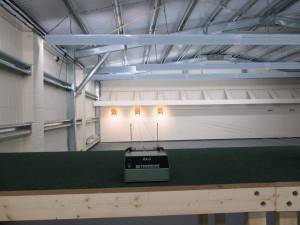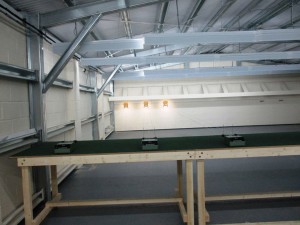 Wednesday 12 March
One more coat of paint on the outside and painting finished
Sunday 1 March
More interior pictures
Wednesday 25 February
Range in front of the firing point ready for pellet catchers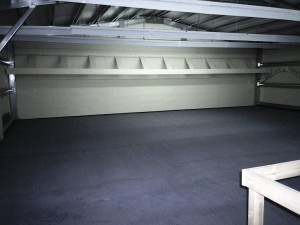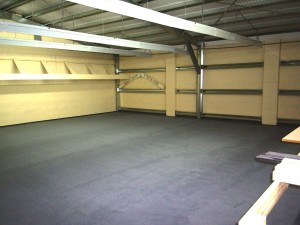 Friday 20 February
Club room floor almost laid
Wednesday 28 January
Club Room painted
Friday 23 January
100 yard firing point taking shape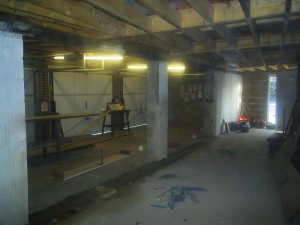 Friday 9 January
Club room almost ready to paint
Thursday 1 January
Walls removed and kitchen installed
Monday 22 December
Work starts in the club room
Friday 19 December
Target lighting and backstop before painting [volunteers needed shortly]
The new part of the club room and loos taking shape
Friday 12 December
New Front Door and others
Friday 28 November
Start made on lighting
Walls almost finished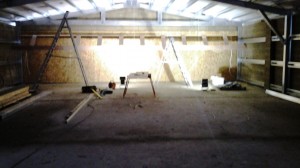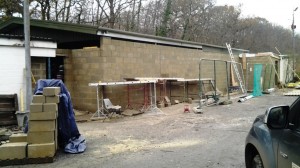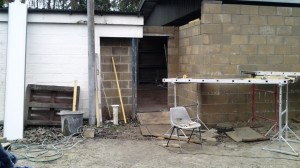 Sunday 23 November
Roof finished and being tested.  No leaks
Wednesday 19 November
Main Roof finished. Drain pipes to be added.
Finished totally by end of the week
Friday 14 November
Main Roof Framework finished
Both roofs ready for covering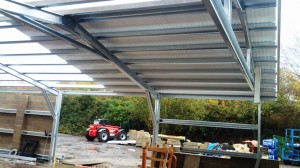 Thursday 13 November
Friday 7 November
Roof supports sited correctly
Friday 31 October
Work on the roof started
Tuesday 28 October
The roof arrives
Friday 24 October
Ready for the roof
Friday 17 October
Walls up to height.  Blocks get heavier with each course.
Free keep fit classes for volunteers
Wednesday 15 October
The walls go up
First tea break since August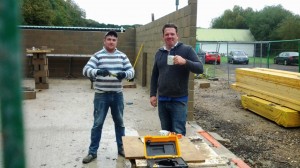 Friday 3 October
Concrete complete.  New loo on 100 yard building started
Friday 26 September
Two sections of concrete to go
Wednesday 24 September
Start of the base being concreted
Friday 19 September
Building Inspector has passed Excavations, Membrane and Insulation.  Concrete booked for next week
Friday 12 September
Almost ready for concrete after 140 tons of hoggin put under the sand
Friday 5 September Blocks up to damp course
Friday 29 August Day lost to weather.  Plumbing completed
Friday 22 August.  Footings concreted blockwork ready to start
 Sunday 17 August.  Footings nearing completion.
By Friday 8 August base and footings partially dug out
Building of the new facility started Monday 4 August 2014
https://www.havant-rpc.co.uk/wp-content/uploads/2014/02/havant-rifle-pistol-header-logo-long.png
0
0
Alan Perry
https://www.havant-rpc.co.uk/wp-content/uploads/2014/02/havant-rifle-pistol-header-logo-long.png
Alan Perry
2014-08-04 15:24:32
2020-02-02 17:57:25
New Range and Club Room - Building Progress